7 AACSB-Accredited MBA Degree Programs
for a #1 Ranked Online MBA!
Please fill out the short form below and someone will contact you shortly to discuss the opportunities at Feliciano School of Business.
Feliciano's Online MBA earned recognition from US News as one of the Best Online MBAs in the country.
#78 overall and #3 in New Jersey
Are you looking for an affordable online MBA program to help advance your career? Then Montclair State University's specialized online MBA's offering degrees in top fields like business analytics, digital marketing, and project management may be the distance-learning MBA solution for you!.
The Feliciano School of Business is accredited by the Association to Advance Collegiate Schools of Business (AACSB) International, which is the world's largest and longest-serving accrediting body for business schools. Less than 5% of business schools worldwide hold AACSB accreditation, which signifies that a business program has met rigorous quality standards and passed a multi-year review process."
Among all AACSB-accredited schools in New Jersey, the Feliciano School of Business offers the most affordable online MBA programs. In fact, Montclair State is recognized among America's "Best Value Colleges" by multiple publications, including Forbes and Money.
Students enrolled in the AACSB-accredited online MBA programs at the Feliciano School of Business will learn from a world-class faculty of thought leaders and industry professionals. All Feliciano faculty and staff are dedicated to transforming today's students into tomorrow's business leaders by helping them develop the analytical, strategic and leadership skills that are the foundation of lasting professional success.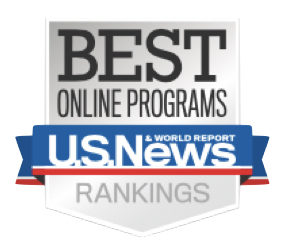 MBA Recognized as a Best Online Program by U.S. News & World Report
---
Due to our strong academic foundations and our commitment to excellence, our online MBA has been ranked #88 nationally by U.S. News & World Report. This year's rank, up from #132 in 2019, is a direct reflection of how our program continues to resonate with students who want only the best education provided by industry-leading faculty at a great value.
Seven Coveted MBA Disciplines Available
---
If you're interested in earning a Montclair State University MBA online, you can customize your education experience with a choice of seven accredited MBA options.
What is AACSB Accreditation and Why Does it Matter?
---
As an "AACSB accredited school" Montclair State University can offer top-notch business degrees with the added conveniences of online learning so an MBA program can fit into your busy schedule.
General MBA
This broad-based online MBA program provides a solid background in key business administration topics, including accounting, economics, finance, information technology, international business, management and marketing. In addition to the program's required core courses, the curriculum allows you to select multiple electives in the disciplines or industries that interest you most—enabling you to align your education with your career goals and aspirations.
Building on the core foundation of the General MBA, Montclair State also offers six specialized Online MBA programs that allow you to develop expertise in some of today's most in-demand business fields.
Business Analytics MBA
Data-driven business decisions are critical to corporate success, but having relevant business intelligence is only half the battle. Data analytics expertise is required to organize, interpret and use that information. In Montclair State's online MBA in Business Analytics program, you'll learn how to collect, measure, evaluate and use the right data to support strategic decisions.
Digital Marketing MBA
Web-based communication platforms and mobile technologies have driven fundamental changes in how marketers engage with today's consumers. In this program, you'll study such topics as social and mobile media, digital customer experience management, integrated digital advertising planning, omni-channel retailing, e-commerce and digital marketing strategy.
HR Management MBA
HR professionals play a critical role in effectively leveraging an organization's greatest asset—its workforce. Montclair State's HR master's program will reveal how to recruit, hire, train, retain and promote the best people. You'll explore strategic HR management, global workforce management, HR analytics, talent management, leadership and other related subjects.
MBA in Marketing
Modern marketers have a powerful arsenal of communication tools at their disposal, resulting in more choices, challenges and opportunities than ever before. This flexible program lets you choose marketing electives that cater to your areas of interest—such as crisis communications and international business—or specific industries, including retail, healthcare and sports management.
MBA in Project Management
Businesses rely on skilled professionals to initiate, plan, execute, monitor, control and close projects, and to ensure those projects stay on time and on budget. In this program, you'll examine all aspects of project management and delve into other topics that impact project success, including the systems development lifecycle, agile systems development and risk analysis.
Finance MBA
Investors and enterprises rely on qualified financial managers, advisors and analysts to guide their fiscaldecisions. This program explores all aspects of business administration, then builds on that foundationwithadvanced financial strategiesfor investments, short-term resources, capital structure, mergers andacquisitions, and options, futures, forwards and swaps.
What does it cost and how long does it take?
---
Montclair State University online MBA programs require 30 plus credit hours to complete and cost $31,200 – $33,800. You will find information about the course curriculums, outcomes and more on the specific program page. For additional information about the Feliciano School of Business or a specific degree concentration contact Toby Burris
Toby Burris
Montclair State University
Student Recruitment Manager
(973) 435-0909
onlinebusiness@montclair.edu
Do you have questions about the online MBA? You may find it helpful to watch a webinar hosted by Student Recruitment Manager, Toby Burris.